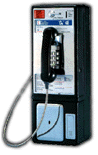 Most prisons have agreements with long distance providers to handle collect calls from prisoners to family and friends. Calls to prisons are forbidden so inmates are compelled to call out at exhorbitant rates.
Phone companies such as AT&T, MCI and Sprint have struck "sweetheart" deals with state and federal prisons.
This is a multi-billion dollar industry/racket and one of the most blatant examples of prison profiteering.
State and federal agencies customarily solicit outside bids, with low bidder winning the contract. In the case of prison phone providers, the highest bidder wins! But wait, there's a method to their madness ... these high bidders are awarded the contracts with the stipulation that a portion (almost half in most cases) of the collect charges are kicked back to the prison system. The prisons say they need the money to run the prisons... oh? well then, what are they using the taxpayers money for? And while we're on the subject of double dipping. why do inmate families have to send money to inmates for medical treatment, medication, food, cosmetics and clothing? To hear the prisons tell it, the taxpayers foot the bill for these necessities.
Artificially inflated phone bills are yet another compulsory market to jump on for prison profiteers. A cruel and unusual prison phone scam/punishment inflicted on the families and friends of prisoners. To impose this heavy financial burden on those who want to maintain spoken contact with their loved ones is nothing less than extortion.
This unethical kickback scheme not only serves to further impoverish people but sometimes results in less or no spoken contact with inmates. It is unscrupulous when anyone targets the unfortunate for profit but it is particularly unconscionable to run a scam that causes inmates to lose that most tenuous of threads to humanity, contact to the outside, the real world. Prisoner advocates and public utility watchdogs must make this a high priority issue.
For more links to research on this issue go here:
eTc -- The Campaign to Promote Equitable Telephone Charges
http://www.curenational.org/etc/index.html
-------------------------------------------------------------------------------------------
PULP: Public Utility Law Project
http://www.pulp.tc/newsletters/n2.htm
-------------------------------------------------------------------------------------------
Beating the High Cost of Inmate Collect Calls
http://www.freeandrea.org/newpage1.htm
-------------------------------------------------------------------------------------------
Break the Prison's Collect Call Monopoly
http://www.pennpals.org/telephone/index.html
-------------------------------------------------------------------------------------------
UCAN Prison Phone Project
http://www.ucan.org/prisonphones/
-------------------------------------------------------------------------------------------
Federal Communications Commission